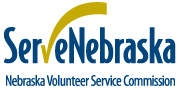 Every day, volunteers provide essential support in their communities. The ServeNebraska Step Forward Awards recognize these outstanding people and groups for their time and service.
Award winners and finalists are selected by the governor in tribute to the significant contributions made within the state through volunteerism.
People or groups may be nominated in one of ten categories:
Youth Volunteer Leadership
Adult Volunteer
Senior Volunteer
Volunteer Group
Corporate Community Volunteer
National Service
Veteran Volunteer
Disaster Volunteer
Community Media Partner
Lifetime Achievement
Submit a nomination by August 27, 2018.