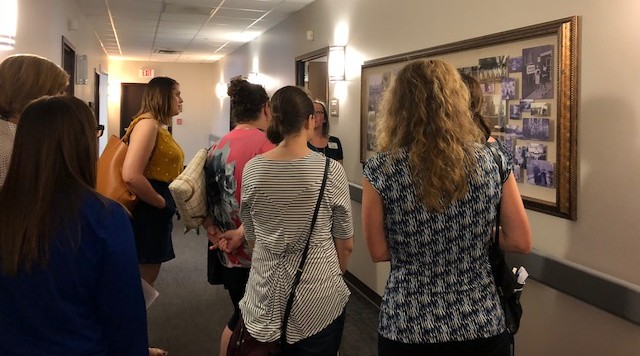 Make the first experience rewarding, and a volunteer will return and bring friends. Representatives from Nebraska Wesleyan University, Union College and Tabitha shared insights at our Volunteer Coordinator Lunch and Learn.
The Nebraska Wesleyan University Lend-A-Hand project involves 500 first-year students get to better know our community by completing service projects. Shari Sorenson discussed the importance of a meaningful experience so the volunteer feels he/she is making a difference. Shari also matches students with semester-long learning opportunities. Read about NWU Service Learning.
Project Impact is Union College's annual service event that has grown to 800+ students and employees. Rich Carlson encourages students to talk with their friends and classmates to learn about different agencies. Union College also encourages community service where the student wants to serve. Student volunteers help their peers find volunteer activities. Students interested in social work, recently served with Calvert Community Center. Read about Union College Campus Ministries.
Tabitha Health provides one-time and on-going volunteer opportunities. Jillian Harold shared the story about Jenna, an 18-year old UNL student who takes Uber to spend time with Tabitha residents, Miss Ruby, a 98-year old volunteer at the gift shop, and Kaylene, the mom with kids who has volunteered 3,500 hours. Jillian provides encouragement to volunteers through a thank you lunch, monthly coffee, and birthday cards. Check out Tabitha's volunteer opportunities.
Three Tip for a New Volunteer's Experience:
Offer one-time events that don't require much preparation or training for academic clubs, sororities and fraternities. Students who enjoy their first experience with an organization, are more likely to continue volunteering. Make it memorable.
Make the experience meaningful. Help volunteers see how their service is making an impact on a person(s). Have volunteers help distribute items to people who need them, after sorting donations.
New volunteers may need training so plan to spend some time with volunteer(s). A volunteer who was assigned to help with a mailing, but had to be shown how to address envelopes because she had not addressed envelopes before. Make it a fun group event.
Thanks to Tabitha for the tour and hosting our meeting (July 18).
For info about upcoming Lunch and Learns, click the nonprofits tab, and select volunteer coordinator networking luncheons.