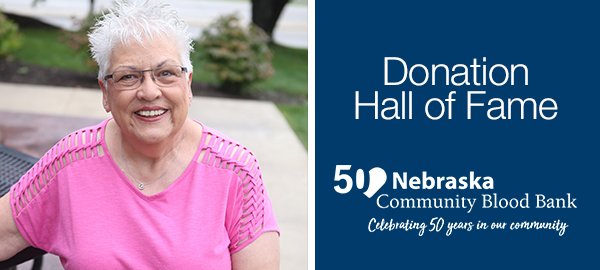 Pat Yahnke was inspired 16 years ago to donate blood by her husband Ken, a long-time donor. She continues to donate and found another connection she loves—volunteering in the canteen, a role she's played for nearly 8 years.
Pat has donated more than 11 gallons of blood and has encouraged countless others to give. She is one of 12 inspiring blood donors from across the country who will be inducted into the 2018 Fresenius Kabi Donation Hall of Fame. 
Please join Nebraska Community Blood Bank in honoring Pat's extraordinary commitment to blood donation at her induction ceremony.
Wednesday, November 7
9:00 AM - 10:00 AM
27th and Superior Donor Center
4900 North 26th Street | Lincoln, Nebraska
Check out more inspiring volunteer stories. Email your stories to us at director@volunteerlinc.org