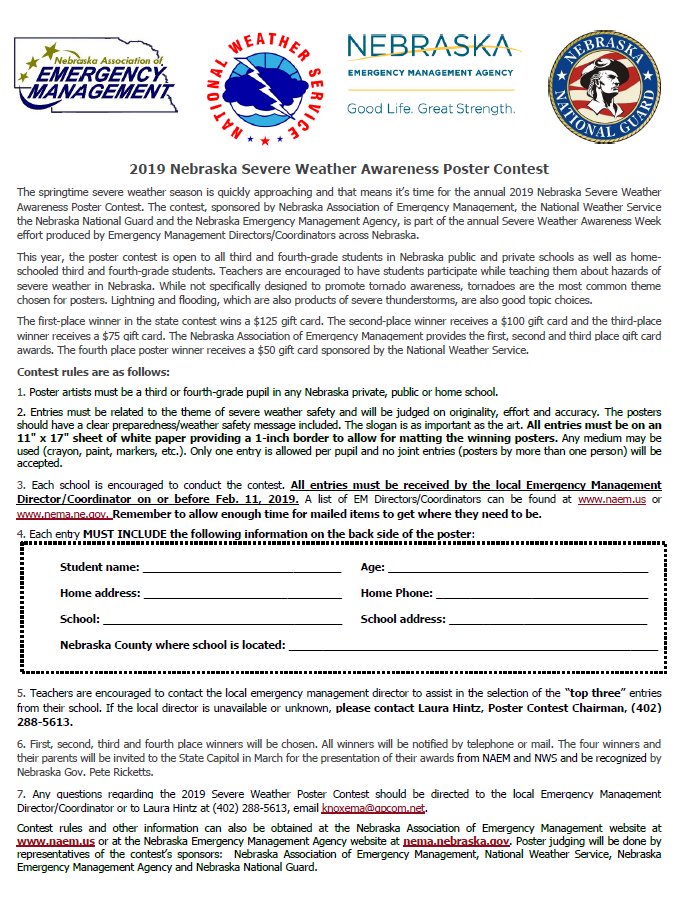 The Severe Weather Awareness Poster contest is open to all third and fourth-grade students in Nebraska. Severe weather awareness topics may include: tornadoes, lightning and flooding.
Entries must be on an 11" x 17" sheet of white paper with a 1-inch border. One entry per student and no joint entries will be accepted. Entries must be received by the local Emergency Management Director/Coordinator by Feb. 11, 2019. See list at www.nema.ne.gov. See contest rules at www.nema.nebraska.gov. 
Contact Laura Hintz, Poster Contest Chairman, (402) 288-5613 with questions.
Poster judging will be done by contest sponsors: Nebraska Association of Emergency Management, the National Weather Service, the Nebraska National Guard and the Nebraska Emergency Management Agency, is part of the annual Severe Weather Awareness Week effort produced by Emergency Management Directors/Coordinators across Nebraska.
American Red Cross and Salvation Army respond during community disasters. See volunteer opportunities.