Volunteer coordinators from local nonprofits are invited to quarterly complimentary luncheons. Meetings are designed to provide conversation and resources to help organizations enhance their volunteer programs. Interested in hosting a meeting, have speaker suggestions or topics? Email director@volunteerlinc.org.
Lunch is served at 11:30, programs begin at 11:45 
Soul Searching with Ellen Beans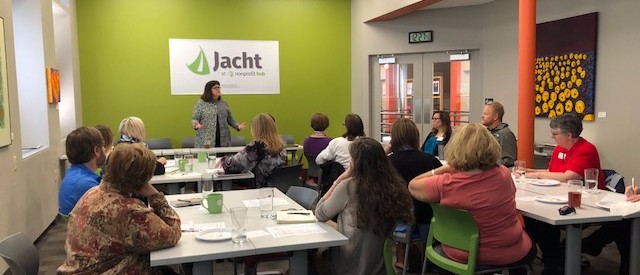 There have been many changes in the 35 years that Ellen Beans has worked at Bryan Health, coordinating volunteers. As the Director of Volunteer and Customer Care, Ellen used to know the names and faces of all the volunteers, and where they parked. Now, with 650 volunteers at the four facilities, her day is filled with different challenges. Read more.
Volunteer Orientations

Small group discussions about best practices for volunteer orientation. Thanks to Lutheran Family Services and Health 360 for hosting our meeting (July 2017)!
Volunteer Appreciation

A panel of volunteers discuss their experiences with nonprofit coordinators. Thanks to Nebraska Community Blood Bank for hosting our meeting (April 2017)!